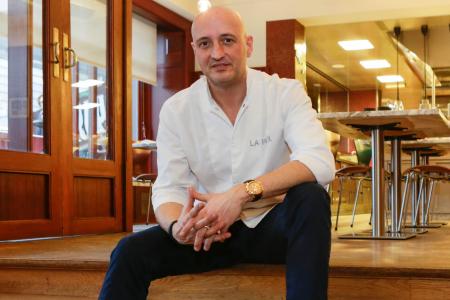 Award winning chef David Martin opens a new restaurant in Baisy-Thy.
David Martin, the award winning chef of "La Paix" restaurant, has opened a new restaurant in Baisy-Thy, near Genape (Brabant wallon).
"Le Lieu" (or the 'Place' to be) is meant to be more than simply a restaurant. The chef, originally from France, has been thinking outside the box to create a place that combines gourmet cuisine, painting and the art of roasting coffee.
In an old, completely renovated farmhouse, "Le Lieu" offers creative contemporary and seasonal cuisine orchestrated by Thomas Henaut, David Martin's sous-chef for five years. "It is a human-sized restaurant that seats twenty, so the chef can prepare the meals in an instant", David Martin explains. Two menus, with three and five courses, are available on Thursdays and Fridays for lunch and dinner as well as on Saturday nights.
The restaurant also houses an art gallery of works chosen by graphic designer Goedele Van Renterghem, and craft coffee roasting headed by Serge Luypaert, who will be offering training courses as well as coffee-tasting sessions.
"From now on, my goal is to create universes. Restaurants should adapt – we should get rid of the model imposed by I don`t know whom", enthuses the chef.
David Martin already runs five establishments in Belgium: "La Paix"* in Anderlecht, "Bozar Brasserie"* in Brussels, two "Atelier de la mer" in Neufchâteau and in Bastogne and, "Classic croquettes" in the Palais 5 of Heysel. A seventh project, whose details have not been released yet, is also underway near the capital.